There is no direct way to disable Reels on Facebook because the social media app wants you to see this feature and use it often. Some users have been given access to the disable option but it isn't available to everyone. Here are some steps to consider if you want to avoid getting into a cycle of Reels:
1. Check If You Can Disable
As mentioned before, Facebook has given some random users the ability to turn off Reels. Check to see if the option is available to you by following the steps mentioned below:
Click on the hamburger menu to access the Facebook settings page on your App.
Find the Audience and Visibility Section.
Find the Reels option and turn off the toggle next to it.
Restart the app.
This will remove the Reels from your application and allow you to browse without any significant distractions.
2. Turn Off Autoplay
Some short videos play automatically even if you disable the Reels or ignore them. These videos often appear on your Timeline and can be very disruptive or distracting. Fortunately, there is an easy way to turn off autoplay to ensure you need to click on the video to play it.
➤ Step 1. Go to Settings on the top right-hand corner of your page or the hamburger menu of your app. Click on the Account Button.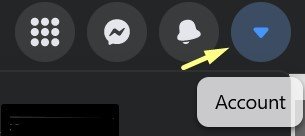 (Account button on the top right-hand corner of the Facebook page)
➤ Step 2. Click on the Settings and Privacy option on the drop-down menu.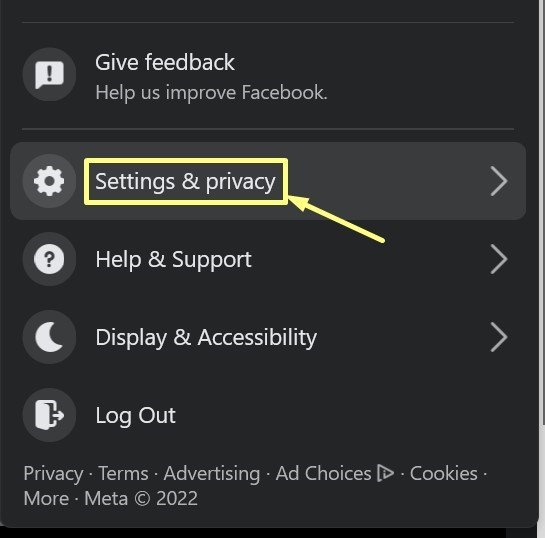 (Drop-down menu after clicking on the Account button.)
➤ Step 3. Scroll down the settings menu to find 'Videos' and click on the tab.
➤ Step 4. Scroll down a bit to find the Auto-Play Videos option and toggle it off. This ensures the video won't play automatically on Facebook.

➤ Step 5. If you want to disable autoplay on your app, you need to Scroll down the Settings and Privacy Menu to find Preferences and then click on Media.
➤ Step 6. When you click on Media and find the Autoplay Menu, you will find three options. You can either choose to autoplay on Mobile and Wi-Fi connections, autoplay only on Wi-Fi connections, or Never Autoplay Videos.
If you choose these options, Facebook will automatically stop playing videos as you scroll through your feed.
3. Use an Older App
Reels is a relatively new feature so it isn't available on older versions of your Facebook application. You can remove all new updates of your current app until you reach a point where the application no longer supports reels. This can be a bit of a cumbersome process but you can avoid updating your app by disabling automatic upgrades.
Using the older app allows you to browse through Facebook as before but certain newer features are disabled.
4. Use Facebook in Browser
If you want to continue to use Facebook on mobile and don't want to bother with the app at all, you can always use the web version of it on your mobile browser. Just log onto Facebook on your Chrome, Firefox, Safari, etc, browsers. The web version of the app doesn't support Reels so you will have a distraction-free experience.
If you want to access Facebook quickly, all you need to do is add a shortcut to the browser tab on your home screen. It will launch the website just as quickly as the application and you will be able to look at the updates from your friends quickly.
If you want to know more about Facebook tips and tricks, browse through our Facebook category for more information.
➤ People also asked Where do I find my timeline on Facebook? – Click here to know