Thinking about how to engage more readers? PDF to flipbook software is the solution. Today in this blog we are going to talk about flipbook software. It is an ultimate guide concerning the software's features, process, pricing, and more. The points discussed will be greatly beneficial for you.
A PDF to flipbook software program will convert PDF into a realistic page turning digital experience that has the power to fascinate readers.
The flipbook should not get confused with the small flick books having drawings in the corner which we used to play with during our childhood.
In most simple words, a flipbook is the advanced version of a PDF document that is fun to read and moreover has rich media elements. It has more interactivity and is flipped like a physical paper printed publication.
Gone are the days, when business owners and readers have to deal with the boring interface of PDF documents. Now, they have mesmerizing flipbooks which are loaded with multimedia interactive elements like audio and video.
The best flipbook software for purchase provides you the combination of the beauty of a paper printed publication and the interactivity of a webpage in the form of a digital flipbook. This in turn makes you avail of the latest technology and get more customers for your business.
Learn about flipbook software
What is flipbook software?
A flipbook software program is a platform to create flipbooks from PDF. Modern flipping book software is a user-friendly interface that doesn't demand any coding experience from the user to use it effectively. The user does not have to understand JQuery, JAVA script, or any other software program.
Why use Flipbook software?
Even if you are a tech savvy individual, the creation of a flipbook would prove difficult for you. Nevertheless, all thanks to convert PDF to flipbook software which has made this task as easy as ABC.
Now you do not have to be a flipbook expert or a software programmer to make a flipbook for you. Just upload your PDF file(s) in a flipbook software program, for instance, Enhanc, and carry out some settings. And your flipbook is ready to use!
Who uses flipbook software?
Flipbooks can be utilized in a large number of industries, some of them are given below but not limited to:-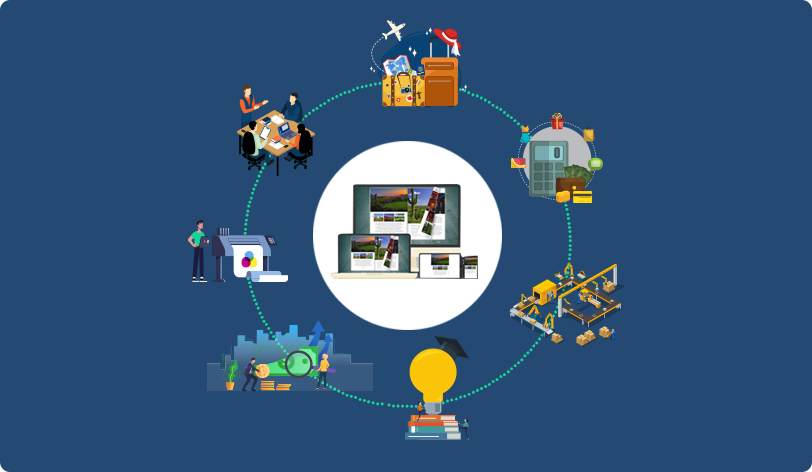 1. Marketing
Marketers that handle custom lead generation forms, reports, marketing representations, and other marketing stuff can make use of flipbooks. They can better engage their users by adding interactivity and animation in their content.
2. Publishing
Modern page turning software program provides an easy way to manage paid subscribers. Further, the software helps in managing, securing, digitizing, and monetizing the content. Learn here about digital publishing trends.
3. Education
Whether it comes to training teachers, distributing assignments or running classes, page turn software can be proved useful. Further, with the help of the software, educators can digitize the entire library.
4. Manufacturing
The software program can help to manage a large inventory of products. Further, you can manage product literature with the help of the page turning software.
5. Real Estate
Make and manage property brochures and detailed educational materials like never before with the help of page turn software. Typically, property brochures contain roughly 40-80 pages. Reading a PDF document for such a big number of pages can be boring for readers.
6. Finance
You can securely manage and distribute your financial data, newsletters, proprietary reports, etc. with the help of flipbook software. Further, you can integrate client relationship management (CRM) system.
PDF to flipbook features
We discuss features of the best flipbook software in the industry i.e. Enhanc here:
1. Unlimited uploads
You get unlimited uploads with the software program both in Basic and Pro version. No digital publishing software in the industry currently offering unlimited upload in Basic version with the lowest pricing.
2. Upload file size
You get max.500 page (max. 250 MB) in Basic version and max. 1000 page (max. 750 MB) in Pro version.
3. Users (Account Managers)
You can manage a single account in Basic version and multiple accounts in Pro version.
4. Media storage
You can enjoy 5 GB media storage in Basic version and unlimited media storage in Pro version.
5. Auto detected links
The software will auto detect the links in your publication which is max. 2000 links in Basic version and unlimited in Pro version.
6. Analytics Reports
You will enjoy basic and advanced analytics reports. In Pro version, you get advanced reporting wherein the client will be able to see the detailed report like- user engagement on each of the pages such as how many times a specific page has been viewed, a certain link has been clicked etc. Also, if there is a lead capture form enabled on the viewer then the lead reports are also a part of advanced reporting.
7. SEO or Search Engine Optimization
Your publications will be search engine optimized which implies they will be quickly indexed on major search engines and rank higher on search engine result pages.
8. All device compatibility
It does not matter what device, operating system, or browser your readers are making use of. They would automatically see the best version compatible for their device, operating system, and browser. You get this feature in both Basic and Pro version of Enhanc. Enhanc is the best flipbook software for MAC, windows users, and more.
9. Embed Anywhere
You can embed your flipbook in your website by simply copying and pasting 'embed code' generated by Enhance PDF to flipbook converter.
10. Ad free
Your publications are completely ad free in both Basic and Pro version.
11. Branding & Customization
You can customize and convert your PDF into a stunning digital publication as per your brand or as per your preference. You can choose colors, color opacity percentage, theme, insert logo & favicon, and do a lot more. Pro version of Enhanc digital publishing software supports this feature.
12. Embed Video
Videos are a great medium to entertain and engage your readers. Further, you can instantaneously convey your message to your readers. You can embed videos in your publications in both Basic and Pro version. Enhanc digital publishing software is probably the only software program in the industry that offers video embed functionality in Basic version with the lowest pricing.
13. Advertiser index, ads and sponsorships
You can increase your revenue by adding advertisers to your publications. This feature is available in Pro version.
14. Leads & Registrations
You can generate leads through your publications by adding custom lead generation forms. Pro version supports this feature.
15. Manage access and password protection
You can password protect your publications and manage access to your publications. This way you can do paid subscription management easily as well. This feature is available in Pro version.
How to make a PDF flip book
Making a digital flipbook with Enhanc is fast and simple. You do not need to be a computer savvy person to do it. Just follow the below given steps:
Make an account on Enhanc
Upload your PDF file(s)
View and manage publications
Use tools, settings, and analytics functionalities offered by Enhanc
Make an account on Enhanc
You can create an account on Enhanc using your Facebook, Gmail, or Twitter account or by simply entering the details.
Once you sign up, your 14 days free trial will start which has access to all the features offered by Enhanc digital publishing software. You can upgrade this trial account if you wish to continue using the account after the free trial period.
You will see some submenus below your account information such as account ID, account & billing, plan & services, billing history, etc.
1. Upload your PDF file(s)
If you see the header menus available on the dashboard, you will find Publications, Directories, Media Library, and Support. You need to click on Publications and upload your PDF file. You PDF file would be converted into flipbook in no time.
2. View and manage publications
You can view and manage publications in the Publications section. You can do things like schedule publishing, active or inactive publications, filter publications, add publications, etc.
3. Use tools, settings, and analytics functionalities offered by Enhanc
Tools
Some of the important tools you will find are publication link, generate embed code, share, video integration, link publications, etc.
Settings
Talking about the important settings, you will find privacy and security wherein you can choose to prevent search engines crawlers not to index your publications, and only people who have direct link to your publications can access it. Further, you can password protect your publications in order to protect it from guest users. You can also manage access and sharing options.
Another useful setting is 'manage layout and design' wherein you can customize the look and feel of your publications so that it goes with your brand or preference.
Some other useful settings are lead capture form, add advertiser index, custom ads and sponsorships, manage media and hyperlinks, etc.
Analytics
You will find the Analytics of your publications around user engagement such as total visits, page views, clicks, no. of downloads, print, share, and more.
PDF flipbook software price
Enhanc is available in two plans and pricing i.e. Basic and Pro. Basic version starts from $15 while the Pro version starts from $30. The Basic version has some limitations, while the Pro version has access to all the features.
A few of the important features you can avail of in Pro version are Branding & Customization, Advertiser Index, Custom ads & Sponsorships, Leads & Registration, Password protection, and Manage access feature.
You can choose to bill annually or monthly. If you choose to bill annually, you can save 20%. The currency options available are US Dollars & Indian Rupees.
You can see the complete pricing and plan here.
The 20% OFF offer is available only for a few days. Hurry!
Enhanc is the low cost PDF flipbook software available in the market with best-in-class support. As aforementioned, the unlimited upload feature and embed video feature are available in the Basic version of Enhanc with the lowest pricing.
If you do a search for a flipbook software program on any major search engine, you will find a lot of options to choose from. Nevertheless, make sure you get the top notch features and support at best prices. Enhanc is the most advanced flipbook software which fulfills these requirements.
Start your free trial today!
See also, here Why is it Beneficial to use Digital Catalogs for Business?