Twitter is now a privately-owned social media network and set to belong to Elon Musk by the end of 2022. The prolific Twitter user and one of the richest billionaires in the world has offered to buy Twitter in cash at the value of $54.20 per share, Which amounts to approximately $44 billion.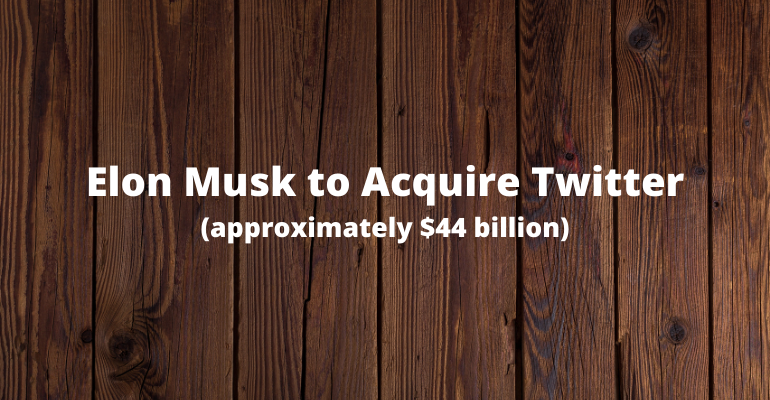 Elon Musk Latest Tweets after Acquire Twitter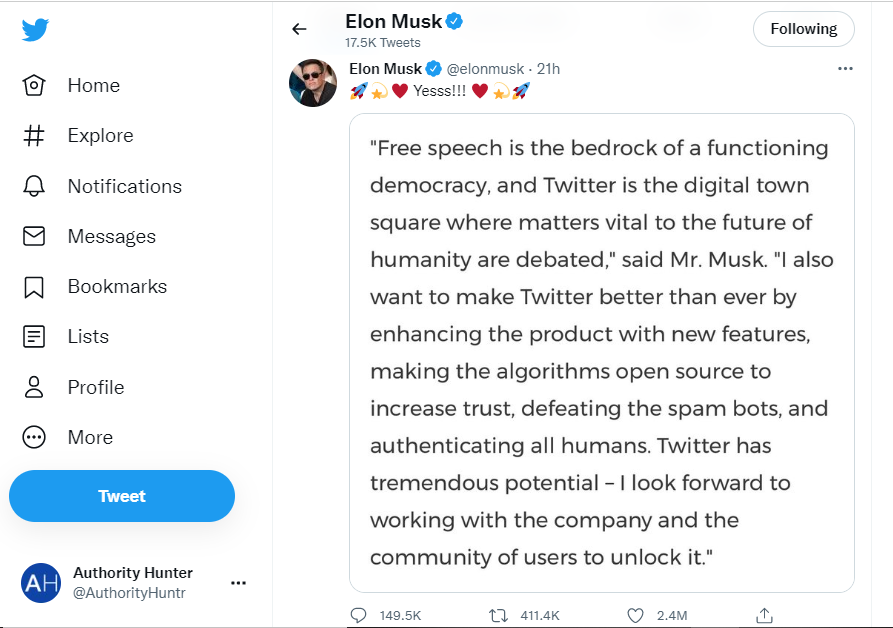 This isn't the first offer he has made to Twitter, having done so once recently and once a few years before. However, this time he exerted incredible pressure on the board and offered a purchase price that was far too attractive for current shareholders as it offered a 38% premium over the last recorded share price before Musk made his actions public.
The transfer of ownership is pending subject to approval from all Twitter shareholders and all required approvals from the regulatory body.
Things may change between now and then. The deal may even fall through. But for now, the purchase is as final as it can be.
The Story So Far
On April 4th, 2022, Elon Musk disclosed that he owned 9% of the stake in Twitter and that made him the largest individual shareholder of the platform. Unsurprisingly, this triggered massive speculation everywhere regarding his plans for the platform.
He had started to deliberately acquire stock in the company from January 31st. By March 14, he had a 5% stake and was supposed to disclose the matter to SEC or Securities and Exchange Commission as well as the public. He delayed doing so for around 10 days and continued to buy shares discreetly without letting his movements affect the share prices of Twitter.
Not long after, he started criticizing Twitter and offering suggestions on how to improve it. A prolific Twitter user with more than 85 million followers, Musk is a well-known name on this platform. His comments on Twitter, its faults, potential improvements, and his suggestions on the matter garnered immense interest on the platform.
An offer was made for Elon Musk to join the Twitter Board with the caveat that he wasn't allowed to own more than 14.9% of the company. He accepted the offer at that time. At this point, Musk was still claiming to be a passive investor but his activities and interactions with Twitter's CEO Parag Agrawal led people to question whether he was really a passive investor.
By April 5th, he was considered an active investor. Within a day of disclosure, it was becoming apparent to everyone that Musk was determined to get a controlling stake over the massive and influential social media platform.
Rejecting His Place on the Board
On April 9th, Musk rejected the proposal to join the board, which Twitter didn't disclose for up to 36 hours with the hope that Musk would change his mind. This made it clear to people that Musk was very serious about the direction the social media site was taking and he wanted to make some changes.
During this gap, Musk continued to harshly and consistently criticize Twitter, asking whether Twitter was dead and offering to turn the Twitter headquarters in San Francisco into a homeless shelter because no one was present there anyway.
The next day, Twitter was forced to make the news public and until April 14th, everything was up for speculation. Twitter employees and social media users alike had no idea about what was going on behind the scenes and the future of the social media company seemed very uncertain.
Without being a part of the board, there was no limit to how much of Twitter Musk could buy. The Founder and former CEO of Twitter Jack Dorsey confirmed that Twitter was a public company and was always available for purchase. It didn't even have a founder with a majority stake, which is often good protection against aggressive buyouts like this.
On April 15th, the shareholders attempted to take the Poison Pill by buying Twitter shares at a discounted rate that was only available to the shareholders. This was measure reserved for an incidence when an individual shareholder managed to gain more than 15% of the company's stake.
By the 16th of April, it seemed like Musk longer the biggest shareholder as Vanguard disclosed they owned 10.3% of the shares, which was bigger than Musk's stake.
This didn't deter Musk as he declared that he would pay $15 billion out of his own pocket and get funding against his Twitter stake to collect enough money for a full buyout.
Securing Funding and Discussions
Until this point, the discussions and Musk's intentions didn't seem very serious. Yes, he did buy shares and make serious offers but the Twitter board didn't seem to be in the mood to indulge him.
That is until he made an offer they couldn't refuse and backed it up with solid funding. Documentation filed at the SEC indicate that he has acquired $46.5 billion with a combination of debt financing from prominent lenders like Morgan Stanley and financing against his equity.
When Musk presented these documents to Twitter, the board was forced to consider them. The considerable cash premium made it an enticing offer. The board unanimously agreed to sell the company to Musk at that price.
What Are Elon Musk's Plans?
There has been a lot of speculation regarding Musk's plans. He has disclosed some on Twitter and people on the social media site have offered suggestions as well. He conducted a poll on Twitter to ask whether users wanted an 'Edit' button on their Tweets.
However, all of these things are speculation. Musk will likely add that Edit button, which has been a much-desired item for many years now. It is also likely that Musk will live up to his other promises like making the Twitter algorithm public and open-source, easing up the restrictions on user speech, removing spambots, and more.
However, what Elon Musk does when he is behind the driver's seat remains nothing but speculation. He will have control over how the platform operates and will take steps to ensure it serves his interests and meets his goals for the social media giant. 
Reference: PRNewswire
SOURCE Twitter, Inc.
________________________________________________________
OLD TWEETS BY ELON MUSK